During school visits we give children and students a wealth of exciting and fun opportunities to:
learn about some of the most important issues facing everyone on the planet
find out about how to live more sustainably
understand how food is produced
experience the beauty of nature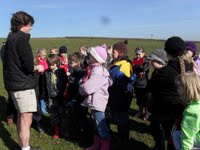 Click on the links below to find out more
Facilities for Education events
Classroom
The classroom for school visits is spacious and colourful. Eight windows and skylights make it a bright space in which to work. A top of the range interactive white board with in-house computer provides the core teaching resource.
Toilets and HandWashing Facilities
Three toilets and multple hand-washing stations enable the children to keep clean and safe from infection whilst on the farm.
Lunches
Children should bring a packed lunch which they can eat in the warmth of the classroom.
Health and Safety
Click on the following links for guidance on keeping safe during farm visits HSE information sheet - Preventing or controlling ill health from animal contact at visitor attractions: http://www.hse.gov.uk/pubns/ais23.pdf HPA/DH/Defra public information leaflet – Avoiding infections on farm visits: http://www.hpa.org.uk/web/HPAwebFile/HPAweb_C/1270122184581
Risk Assessments
Download a risk assessment for the visit from the Attachments section at the bottom of this page
Download a pre-visit guidance document
Subpages (7): From pigs to pork Growing vegetables Nature Ponies Rearing Pigs Re-cycling water and waste Renewable Energy
Attachments (2)